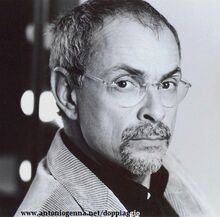 Angelo Maggi Mariotti (born in Rome on 16 December 1955) is an Italian actor, voice actor and voice acting director. He narrated the first five series in the Italian dub of Thomas & Friends.
He is the Italian voice of several actors like Tom Hanks and Bruce Willis. He also replaced Enzo Avolio as Chief Wiggum from The Simpsons.
"Welcome to the Steamworks, my friend!"

This article is a stub. You can help by expanding it.