This is a behind the scenes subpage for

Arthur

.

This subpage contains all behind the scenes material relating to said article.
Background Information
Television Series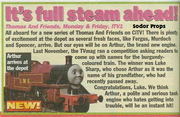 Arthur is a fictional tank engine created by
Paul Larson
and
Robert Gauld-Galliers
.
In 2003, Arthur made his debut in the seventh series of Thomas the Tank Engine and Friends in the episode, The Spotless Record. He later appeared in the eighth, eleventh and twelfth series and also in the special, The Great Discovery.
Arthur has not appeared in the television series since 2008.
According to an early leak on the names of the seventh series characters, which has not been found yet, Arthur was originally going to be called Clarence. It was then changed to Arthur when a TV magazine ran a competition to give him an official name and that was the one chosen. Arthur was named after the late grandfather of competition winner Luke Sharp.
Arthur is based on an LMS Ivatt Class 2MT tank engine developed for the London, Midland and Scottish Railway (hence the initials on his tanks). Unlike his basis, Arthur lacks a top-feed cover.
According to Robert Gauld-Galliers' original artwork, he was originally going to have the number "41241" painted in yellow on his coal bunker and a top feed like his original basis. The number 41241 comes from a preserved 2MT on the Keighley and Worth Valley Railway and at one point, 41241 was painted in a maroon livery like Arthur. Three others are also preserved.
Behind the scenes
Gauge 1 Model
Arthur's model was scratch-built to run on gauge 1 track. The model was built from brass. It was painted in a matte finish and lined gold automotive pinstripe tape. The letters on his tanks were custom cut vinyl stickers.
Eleven different facial expressions were sculpted for Arthur, although only nine were used on-screen.[1] The faces were first sculpted in clay and from that resin casts were made using a silicone mould.
In the seventh series episode, Bulgy Rides Again, Arthur was seen with a lamp. This was powered by a hidden battery pack.
The following Pantone colours are used on Arthur's model:
PMS 130 C (yellow)
PMS 186 C (red)
PMS 188 C (maroon)
Close-Up Model
Several close-up shots of Arthur's cab was required for scenes in the seventh series, where he had to interact with close-up scale figures. The model was not complete and only the cab was built.
Voice Actors
References
*Disclosure: Some of the links above are affiliate links, meaning, at no additional cost to you, Fandom will earn a commission if you click through and make a purchase. Community content is available under
CC-BY-SA
unless otherwise noted.