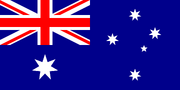 Australia, officially the Commonwealth of Australia, is a country located in the continent of Oceania consisting of six states and two territories. In it, this country is the largest of all.
Thomas visited this country in Really Useful Around the World when he was taking some passengers from Adelaide to Darwin. But then he heard an unusual sound while going along the tracks and could not tell what it was. Thomas made it to Darwin when he heard the strange sound and found that it came from a man playing a didgeridoo at the platform.
Thomas also visits the country in his world tour and meets Isla.
Thomas later visited the country again in Thomas' Aussie Football Adventure when he was with Shane and Tracy.
The Australian Engine and the City Circle Tram live there.
In the twenty-second series, Thomas visited the Australian Outback to help out for a period of time; his adventures included a disastrous attempt at being a tour guide, helping to evacuate townsfolk from a cyclone, chasing after a kangaroo after it mistakes a toy kangaroo for its joey and rescuing koalas during a bushfire.
Rolling Stock
Locomotives
Television Series only
Others
Coaches and Trucks
Television Series only
Non-Rail Vehicles
Television Series only
Others
Humans
Television Series only
Others
Locations
Television Series only
Others
Appearances
Video
Community content is available under
CC-BY-SA
unless otherwise noted.