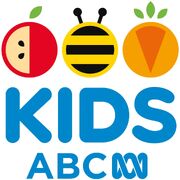 The Australian Broadcasting Corporation is the primary broadcaster of Thomas & Friends in Australia. Recent series are broadcast as part of the ABC Kids block on ABC2. Thomas was also shown on ABC1 prior to the CGI switchover.
ABC broadcasts many other children's shows, including other HiT Entertainment properties.
ABC has distributed Thomas and Friends on VHS, DVD and Blu-ray in Australia under the ABC for Kids name since 1991, when they took over from Festival Records.
VHS Releases
DVD Releases
Episodic Releases
My First Thomas Series
The Complete Series Collections
Twin Packs
Series One and Two Double Pack
Series Three and Four Double Pack
Series Five and Six Double Pack
Series Seven and Eight Double Pack
Series Nine and Ten Double Pack
Series Nine and The Great Discovery Double Pack
Boxsets
Classic Collection: Series 1 - 5 (5 Disc Boxset)
Complete Series 1-10
Movies and Feature-Length Specials
Twin Packs and Boxsets
Hero of the Rails and Misty Island Rescue
Misty Island Rescue and Day of the Diesels
Blu-ray Releases
Misty Island Rescue
Day of the Diesels
Trivia
Originally, Calling All Engines! was going to be released on VHS in Australia, but it got cancelled due to VHS releases no longer available in Australia from late 2005 onwards.
The Australian Broadcasting Corporation has banned reruns of the nineteenth series episode, Henry Spots Trouble, due to complains about the episode presenting chicken pox "as a mild disease that is nothing to worry about" and conveyed an anti-vaccination message. Although the episode is banned on television, it was still released on the Whale of a Tale DVD.
Community content is available under
CC-BY-SA
unless otherwise noted.