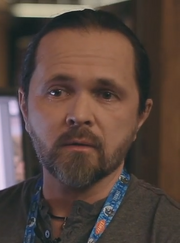 Boris Andreev was the Art Director at Arc Productions/Jam Filled for the seventeenth season, Tale of the Brave, the eighteenth season, The Adventure Begins, Sodor's Legend of the Lost Treasure, The Great Race, the nineteenth season and the twentieth seasons, as well as eight episodes of the twenty-first season and Journey Beyond Sodor in his position.
Boris had previous experience working on Thomas & Friends prior to his time at Arc Productions when he was an Art Director for Nitrogen Studios for a year, having worked on Hero of the Rails, Misty Island Rescue, and the thirteenth and fourteenth seasons.
He left Arc Productions in August 2016 when the company shut down after filing for bankruptcy.
External Link
"Welcome to the Steamworks, my friend!"

This article is a stub. You can help by expanding it.