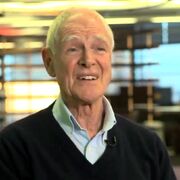 Brian Trueman (born in Manchester, England on May 16, 1932) is an English writer and actor. He had written episodes for the sixth to the seventh series of Thomas & Friends, along with the spinoff series Jack and the Sodor Construction Company, however one of his episodes was cancelled.
He used to work for Cosgrove Hall Productions, writing for many of their shows, including The Wind in the Willows, Danger Mouse and Count Duckula. He also wrote episodes and voiced various characters in the show "Budgie the Little Helicopter". He has also worked as a presenter of his own show and a broadcaster.
He is the father of fellow writer Jonathan Trueman.
Episodes