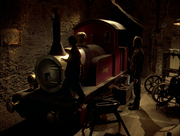 Burnett Stone owns a workshop that is located on Muffle Mountain.
He kept Lady here after she crashed from Diesel 10 and tried to fix Lady, but could not get her to work until his granddaughter Lily told him that she needs Sodor coal.
Some items Burnett kept in the place aside from Lady are tools, a toy model, painting, and blueprints of the lost engine.
The only characters that knew where the workshop is are Patch, Lily and Mutt.
There is also a tunnel, which leads to the Magic Railroad.
Gallery