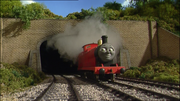 Crosby Tunnel is a tunnel that is located west of Crosby, connecting said town with Knapford. It is one mile in length.
History
Crosby Tunnel was cut by the Wellsworth and Suddery Railway (W&SR) in 1912 following the agreement made in that year to amalgamate with the Tidmouth, Knapford and Elsbridge Light Railway (TK&ER) to form the Tidmouth Wellsworth & Suddery Railway (TW&S). The tunnel, originally cut for a single line, was opened out for double track in 1915 when the North Western Railway took over the TW&SR.
Appearances
Specials
Trivia
The tunnel has gone through a few changes:

Series 6:

The tunnel had walls on the sides and the tracks were straight.

Series 10:

The walls were removed and the tracks are curved.