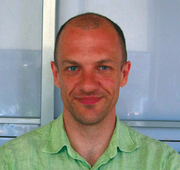 David Baas was the head of the animation department at Arc Productions, which he joined in 2005. He directed Thomas & Friends for the seventeenth series only. He also directed the CGI television series "Matt Hatter Chronicles" and Shane Acker's animated film "9". Prior to joining Arc Productions, he worked as a coordinator and professor in the computer animation program at Seneca College, Canada. Rob Silvestri directed King of the Railway and Tale of the Brave, while Don Spencer directed half of the eighteenth series and David Stoten directed the other half.
He left Arc Productions in 2014 and Adam Beck succeeded him the head of animation, until 2016.
Director
Series
"Welcome to the Steamworks, my friend!"

This article is a stub. You can help by expanding it.