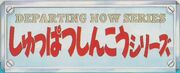 Departing Now (Japanese: しゅっぱつしんこうシリーズ) is a range made by Bandai. The range had battery-powered engines, some that could be controlled with hovering a wand over their cabs. Originally, the engines faces were permanently attached to their body, but as the line progressed they changed into interchangable and removable face masks.
Engines
Rolling stock
Vehicles
People
Sets
Knapford Station
Accessory Set
Thomas Battery Powered Set
Percy and Coaches Set
Track Expansion Pack
Trivia
Henrietta and the breakdown train's liveries are darker than usual.
Most of the engines are missing their lamp irons, and have over sized funnels.
Besides the powered ones, Bandai also released the same exact models as unpowered push alongs. All engines except Donald, Douglas, Edward, Bill and Ben are known to exist as unpowered.
Twin engines such as Donald and Douglas or Bill and Ben contained one motorised engine and one push along. Each twin had the same exact model, the only difference being the shell that protected the battery (boiler) has a nameplate stating who they were. This however could be swapped with the other twin. This was most likely intended to not limit kids to only having on motorised charecter.
The Skarloey engines were never released as a powered form, they were always a push along version released in 1995.
The Skarloey engines were often sold together in grous of twos.
Despite having made every other Skarloey engine including Duke, Rusty was never made for the line.
A majority of engines would be sold with a nameboard, spare face masks, and sometimes even people.
Some tank engines in the range have sliding cab doors which allow a person to be put inside.
Only Thomas, Henry, Gordon, James, and Percy were ever made with interchangeable faces. Each having a happy face, sad face, and angry face.