This article is about the episode. You may be looking for the DVD.
"Look here, Percy. Whatever is that dirty object?"
"That's James, didn't you know?"
"It's James' shape, but James is a splendid red engine, and you never see his paint dirty."
―Toby and Percy teasing James
Dirty Objects, retitled James in a Mess in American releases, is the twenty-third episode of the first series. It is based on the story of the same name from The Railway Series book, Toby the Tram Engine.
Plot
Toby and Henrietta are settling into their new lives on the Island of Sodor, but due to their bad paintwork and old-fashioned style, the two become a subject of scorn for James who calls them "dirty objects". Offended, Toby asks why James is red and James says that it is because he is a splendid engine who is never dirty and ready for anything. Toby then teases James by reminding him of the bootlace incident, causing James to become angry.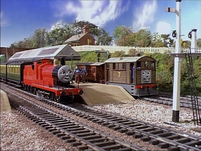 Later, at the end of the line, James leaves his coaches and prepares for his next train. He picks up a line of trucks for a slow goods train at each station. James' mood is worsened due to his dislike of slow goods trains. Although the trucks start off behaving well, James is so rough with them that they end up being determined to pay him back. As he starts to climb up Gordon's Hill, James is supposed to stop and have his brakes pinned down. James, who had an accident with trucks before, should remember this, but forgets as he is too busy thinking of what he will say to Toby next time they meet. Seeing their chance, the trucks push James down the hill. Unable to stop, James runs out of control through Maron station, crashes into a line of tar tankers, and derails.
Although James is not badly hurt, he is covered from smoke box to cab in tar, while the tar tankers and some of the trucks are completely destroyed. Percy and Toby come to help clean up the mess and Toby makes fun of James reminding him that, as a splendid red engine, his paint is never supposed to look dirty. An embarrassed James pretends he had not heard them. Percy and Toby take James back to Tidmouth Sheds where the Fat Controller is waiting. He commends Percy and Toby for their hard work and tells James he needs to be cleaned.
The Fat Controller awards Toby a new coat of paint and accepts Toby's request that Henrietta have one as well. Toby happily runs off to tell her the good news while James remains silent, knowing full well that he is the "dirty object".
Characters
Locations
Trivia
Goofs
Merchandise
In Other Languages
View content
| Language | Title |
| --- | --- |
| Brazilian Portuguese | James em Problemas |
| Chinese | 脏东西 |
| Croatian | Prljave Predmeti |
| Czech | Špinavé Věci |
| Danish | Gamle Dårligt |
| Dutch | Een Vervelende Zaak |
| Finnish | Sottaiset Surkimukset |
| French | Des Objets Sales |
| German | Dreckige Dinger |
| Hebrew | חפצים מלוכלכים |
| Hungarian | Piszkos Vonatok |
| Italian | Che Sporcizia! |
| Japanese | きたないきかんしゃ |
| Korean | 곤경에 빠진 제임스 (DVD Acadady) / 검둥이가 된 제임스 (재능TV) |
| Norwegian | Møkkete Saker |
| Polish | Brudne Pojazdy |
| Romanian | Obiecte Murdare |
| Russian | Грязнули |
| Serbian | Prljave Lokomotive |
| Slovak | Spinavé Predmety |
| Slovenian | Umazančki |
| Spanish | James en Problemas |
| Swedish | Smutsig Last |
| Thai | เจมส์มอมแมม |
| Ukrainian | Брудні предмети |
| Welsh | James a'r Tryciau |
Home Media Releases
UK

DVD Boxsets

US

DVD/VHS Packs

AUS

Coal and other stories
The Complete Series 1

DVD Boxsets

Complete Series 1-10
Classic Collection
Series One and Series Two Double Pack

NZ

FRA

JPN

PHL

IND

MYS

NOR/FIN/ISL

NL

UKR

GER

DVD Boxsets

ITA

ROM

DVD Packs

SER

HRV

WAL

CHN

THA

HK

DNK
---
*Disclosure: Some of the links above are affiliate links, meaning, at no additional cost to you, Fandom will earn a commission if you click through and make a purchase. Community content is available under
CC-BY-SA
unless otherwise noted.