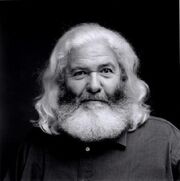 Gérard Boucaron (born on 7 March 1945) is a French actor who narrated the first - fifth series of Thomas & Friends in France and French-speaking Canada. 
He is best known for appearing in various French television shows and films, such as "Série noire", " Les enquêtes Caméléon", "Cyrano de Bergerac", and "Des lauriers pour Lila". He is also best known for voicing Rei Ginsei from "Vampire Hunter D", Ghim from "Record of Lodoss War", Keel Lorenz from "Neon Genesis Evangelion", and Marshall D. Teach/Blackbeard from "One Piece".
He is also a voice director in various cartoons and animes, such as "Beyblade: V-Force".
He was succeeded by Blanche Ravalec from the sixth to fifteenth series.