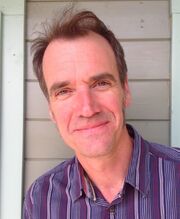 Gerard "Gez" Foster is a British writer and actor who was an episode writer for Thomas & Friends. He has also written some of the Mr. Perkins segments. He has written eight scripts for the series in total, however only two have been aired and are unlikely to have been produced. He has also written for "My Parents are Aliens", "Horrible Histories", "Young Dracula", "4 O'Clock Club", "Bing", "PJ Masks", "School of Roars", "Justin's House", "Noddy, Toyland Detective", "Tati's Hotel", "Mike the Knight", "The Slammer", "Postman Pat", "SMTV", and "S-Club".
Episodes
Mr. Perkins Segments
Source
"Welcome to the Steamworks, my friend!"

This article is a stub. You can help by expanding it.