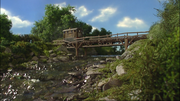 Hackenbeck Bridge is a small, wooden bridge that goes over the River Callan. It once collapsed just before Percy was about to cross the river and it took several days to repair it.
It appeared in two Railway Series books: More About Thomas the Tank Engine and Thomas Comes Home. It also appeared in the Annual story Terence Takes a Bath.
In the television series, the bridge only appeared in a Learning Segment, Calling All Engines! as stock footage and Thomas and the Birthday Picnic.
Gallery