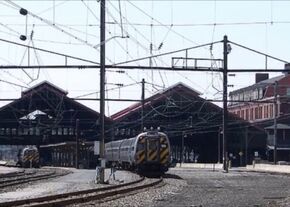 The Harrisburg Transportation Center (HTC, formerly Pennsylvania Station, Harrisburg or Harrisburg Central Railroad Station) is a large railway station and transportation hub in Harrisburg, Pennsylvania.
The building, which is owned by Amtrak and managed and operated by the Harrisburg Redevelopment Authority, contains office space above the building's main lobby that is used by various tenants. It also contains a moderately large meeting room called the Pennsylvania Room that can be used for meetings and other large gatherings.
Amtrak provides service to the station via the Keystone Service and Pennsylvanian routes, which operate along the Keystone Corridor and Northeast Corridor.
It was listed on the National Register of Historic Places in 1975, and is also designated as a National Historic Landmark.
Trivia
In Thomas and the Magic Railroad it was filmed here where Lily boards the train to Shining Time Station instead of Muffle Mountain.
It is located on the eastern edge of Downtown Harrisburg between the intersections of Aberdeen and Market Streets and 4th and Chestnut Streets.
The well-situated station is the primary hub for passenger rail and intercity.
It is one of the busiest Amtrak stations serving a metropolitan area with fewer than two million people, mainly due to the large number of passengers traveling between this station and Philadelphia.
The current station was built by the Pennsylvania Railroad in 1887 and significantly rebuilt with its distinctive barn roof in 1905 following a serious fire in 1904.
Pennsylvania Railroad No. 4859 a GG1 class electric locomotive is on display in the train shed of this station.
Passenger facilities are currently limited, but the station does have a newsstand on the first floor that sells newspapers, magazines, food, and beverages.
Gallery