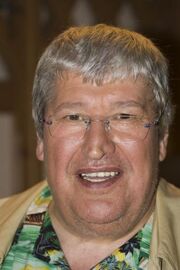 Helmut Krauss (born on 11th June 1941 in Augsburg, died on 26th August 2019 in Goslar) was a German actor, cabaret artist, voice artist and voice director.
He was best known for voicing General Grievous from "Star Wars: The Clone Wars", Maurice from "The Penguins of Madagascar", Darkseid from "Superman: The Animated Series", Moe from "An American Tale", Cera's father from "The Land Before Time" films and television show, Shredder from the "Teenage Mutant Ninja Turtles" films and Great Deku Tree from the video game "The Legend of Zelda: Breath of the Wild". He has also dubbed for actors such as Marlon Brando, John Goodman, Yaphet Kotto and Samuel L. Jackson. In Germany, he was also well known for his performance as Mr. Paschulke in "Löwenzahn".
He passed away on the 26th August 2019 at the age of 78.
Voices
External links