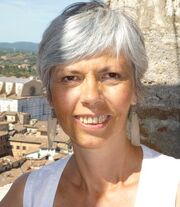 Jan Page is an English writer, producer and author. She was an episode writer for Thomas & Friends as well as script editor for the seventh series.
She also writes episodes for other children's shows such as "Angelina Ballerina", "Fireman Sam", "Postman Pat", "Tweenies", "The Fimbles", "MacDonald's Farm", "Rubbadubbers", "Planet Cook", "The Hoobs", "Guess with Jess", and a few more. She also created the series "Grandpa in My Pocket" wrote and the BBC1 soap opera, "Doctors". She has helped develop projects with both HiT Entertainment, "The Jim Henson Company" and "Novel Entertainment".
She has also published six novels with Random House, under the pen name Jess Ryder.
Episodes
External Links
"Welcome to the Steamworks, my friend!"

This article is a stub. You can help by expanding it.