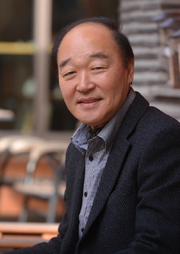 Jang Gwang (장광, born on 5th January 1952) is a South Korean actor and voice actor who narrated Thomas & Friends in South Korea from the first through fourth series.
He is best known for voicing such characters in South Korea as Hank Hill from "King of the Hill", Cat from "CatDog", Francis Monogram in "Phineas and Ferb", Lou Pickles and Ralph in "Rugrats", Professor Utonium from "The Powerpuff Girls", Timon from "Timon and Pumbaa", Robert from "Bob the Builder", and "The Lion King" and voicing such movie characters as "Shrek", Crash from the "Ice Age" franchise, Scuttle from the "Little Mermaid" franchise, Skipper from the "Madagascar" franchise, Rhino from "Bolt", Dusty and Bob Cutlass from "Cars 3", Finn McMissle from "Cars 2", Doug from "Up", King Papi from "Trolls", Sgt. Tibbs from "101 Dalmations", Lon from "Pocahontas", Crush from the "Finding Nemo" franchise, Dr. Delbert Doppler in "Treasure Island" and dubbing over countless celebrities such as Gary Oldman and Sam Neill.
Live action dubbing roles include Thomas Andrews (Victor Garber) and Wallace Hartley (Jonathan Evans Jones) in "Titanic", King of Theoden (Bernard Hill) in "Lord of the Rings 2", Gus (Michael Constantin) in "My Big Fat Greek Wedding", Leigh Teabing (Ian McKellen) in "The Da Vinci Code", Arthur Hoggett (James Cromwell) in "Babe", Vito Colleone (Marlon Brando) and Tom Hagen (Robert Duvall) in "The Godfather", Bill (Stellen Skarsguard) in "Mamma Mia", Rock Hound (Steve Buscemi) in "Armedgeddon", the Godfather (Sean Putt) in "Equilibrium", Alan Parish (Robin Williams) in "Jumanji", Sgt. Al Powell in "Die Hard", Mr Bakshi (Anupam Kher) in "Bride and Prejudice", Douglas Fairbanks (Kevin Kline) in "Chaplin", Reuben (Elliot Gould) in "Oceans Eleven", Captain Thurmann (Dan Ackroyd) in "Pearl Harbour", Sticky (Ed Begley Jr.) in "Batman Forever", Pontius Pilate (Frank Ting) in "Ben Hur", Charles Morse (Anthony Hopkins) in "The Edge", Ron Witwicky (Kevin Dunn) in the "Transformers" film series and King George VI (Colin Firth) in "The Kings Speech".
"Welcome to the Steamworks, my friend!"

This article is a stub. You can help by expanding it.
Community content is available under
CC-BY-SA
unless otherwise noted.