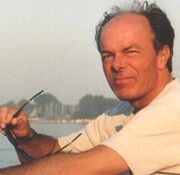 Jens-Peter Morgenstern (born on 7 February 1951) is a German musician and composer who had worked on the German audio books from 2005 to 2013. He adapted the scripts and also composed the music that was not taken from the television series.
He has been working with André Minninger and Heikedine Körting at Europa and one of his best known work includes over 200 for compositions The Three Investigators that got him an award. He manages his Morgenstern-Studio in Bardowick.
External link
"Welcome to the Steamworks, my friend!"

This article is a stub. You can help by expanding it.