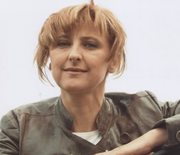 Krystyna Kozanecka-Kołakowska (born July 24th, 1959 in Poznań - November 20th, 2013) was a Polish actress who provided voices in the Polish version of Thomas and Friends.
She is best known for voicing Jubilee from "X-Men: The Animated Series", Penelope Lang from "Atomic Betty", Laura from "Hamtaro", Trixie from "The New Adventures of Speed Racer", Yasmin from "Bratz", Raven Baxter from "That's So Raven", Arcee and Sally from "Transformers: Energon", Thunderblast from "Transformers: Cybertron", Dorothy Ann from "The Magic School Bus", Princess Morbucks from "The Powerpuff Girls", Delia Ketchum from "Pokémon", and Penny from "Inspector Gadget".
She passed away on November 20th, 2013.
Voices