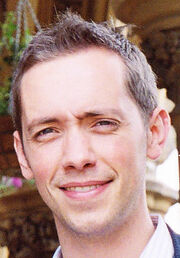 Nick Ostler is an English writer, producer and actor.
He was an episode writer for Thomas & Friends. He left the show after the nineteenth series. He would frequently work with Mark Huckerby. Together, they have also written for "Peter Rabbit", "The Octonauts" and "Tree Fu Tom". They are also working on the revivals of "Thunderbirds are Go!" and "Danger Mouse".
Episodes
These episodes were co-written with Mark Huckerby.
External Link
Gallery