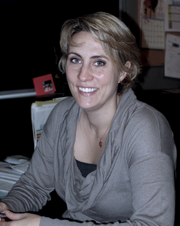 Nicole Stinn-Tiernan (born Nicole Stinn in Vancouver, British Columbia, Canada) is a Canadian producer and animator who served as the CEO and President of Nitrogen Studios until 2018. She produced the CGI Series of Thomas & Friends from 2008 to 2012.
Stinn replaced Simon Spencer as producer of the series in 2009, and was replaced in turn by Robert Anderson when production was taken over by Arc Productions in 2012.
Nicole and Greg Tiernan founded Nitrogen Studios in 2003.
Producer
Series
Specials
Trivia
Stinn-Tiernan has been working in the animation industry for over nineteen years.
She is married to Greg Tiernan.
Gallery
"Welcome to the Steamworks, my friend!"

This article is a stub. You can help by expanding it.