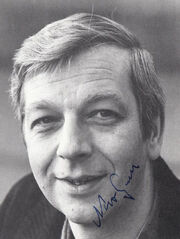 Norbert Gescher (born 14th December 1939, died 30th April 2021), also known as Norbert Gescher-Ringelnatz, was a German voice actor.
He was well known for being the German voiceover of Steve Martin, Richard Dreyfuss, and Beau Bridges. He is also known for voicing Ki-Adi-Mundi from the "Star Wars" series, Spock from "Star Trek", Professor Membrane from "Invader Zim", Yahoot from "Megaman NT Warrior", Walter Sergei Skinner from "The X-Files", Mayor Richard Wilkins III. from "Buffy the Vampire Slayer", Pater Alex from "Mamma Mia", Wellington from "Sharpe's Enemy" and Sleet from "Sonic Underground". As an actor on television, he has appeared in "Peter ist der Boss", "Polizeiruf 110" and the pilot episode of " Alarm für Cobra 11".
He was the son of German translator Muschelkalk Ringelnatz, who was also the widow of German author, painter and cabaret artist Joachim Ringelnatz. Gescher managed his legacy and was responsible for exhibitions.
Voices
"Welcome to the Steamworks, my friend!"

This article is a stub. You can help by expanding it.