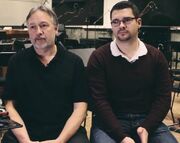 Peter Hartshorne is an English flight instructor and former music composer.
He is the son of Robert Hartshorne. He started composing for Thomas & Friends with his father during Day of the Diesels and worked on the specials from 2011 to 2015. He was the sole composer for The Adventure Begins, the only Thomas special he composed without working with his father. For this special, he rearranged a number of the original themes by Mike O'Donnell and Junior Campbell.
He and his father often work on the music for various documentaries hosted by Andrew Marr, including his most recently released documentary series, "Andrew Marr's History of the World".
After Sodor's Legend of the Lost Treasure, he and his father's contract with HiT Entertainment had ended and the executives wanted to use someone new. Chris Renshaw took their place as composer from The Great Race onwards.
External Link
"Welcome to the Steamworks, my friend!"

This article is a stub. You can help by expanding it.