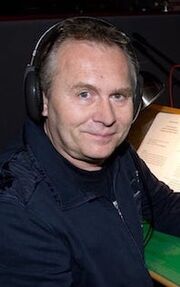 Radovan Vaculík (born in 1966) is a Czech actor who narrated Thomas & Friends in the Czech Republic between the first and third series. He later returned to voice Percy from the seventeenth series onwards.
He also voices Nelson Muntz and Sideshow Mel in "The Simpsons", Mort Goldman in "Family Guy", Stan Marsh in "South Park", Kif in "Futurama", Wally Farquhare in "The Cleveland Show", Ben Jones in "Midsummer Murders", Pinocchio from the "Shrek" series and Jacques from "Valliant", Tony Stark/Iron Man in the live action "Iron Man" films, Radar in "Ozzy", Gillette in "Pirates of the Caribbean: On Stranger Tides", Ezekiel in "Rango", Mike in "The Winx Club: The Secret of the Lost Kingdom", Lindir in "Lord of the Rings", Raul in "Happy Feet", Jasper in the 1996 "101 Dalmatians" film, Scuttle in "The Little Mermaid", Arrow, Donner, Dasher, Dancer, Prancer, Vixen, Comet, Cupid and Doogle in the 1998 "Rudolph" movie, Elliot Parker in "Young and Hungry", Ratchet in the "Transformers" live action series, Kirk in "Beverley Hills 90210", King Einon in "Dragon Heart", Emmett Cullen in the "Twilight" film series and voicing in such films/television shows as "Catdog", "Cats and Dogs", "The Flintstones in Viva Rock Vegas", "Looney Tunes: Back in Action", "Yours, Mine and Ours", "Coraline", "Avatar", "GI Joe", "Rio", "Pirates of the Caribbean: Salazar's Revenge", "Independence Day", "Columbo", Star Trek", "Garfield: the Movie", "How to Train Your Dragon", "Mission Impossible: Rogue Nation" and "Dinosaurs".
Voices
"Welcome to the Steamworks, my friend!"

This article is a stub. You can help by expanding it.
Community content is available under
CC-BY-SA
unless otherwise noted.