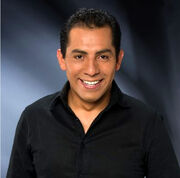 Ricardo Mendoza (born 25th June 1963) is a Mexican voice actor who voiced Dodge in Thomas and the Magic Railroad.
He is known for voicing Melman from the "Madagascar" films, Eddy from "Ed, Edd n Eddy", Shiyru Dragon from "Saint Seiya", Oscar the Grouch and Baby Bear from "Sesame Street", Seto Kaiba from "Yu-Gi-Oh!", the title character of "Courage the Cowardly Dog", Yamcha from the "Dragon Ball" series, Michael Kelso from "That 70's Show", and Raymond from "Everybody Loves Raymond".
Voices
Trivia
"Welcome to the Steamworks, my friend!"

This article is a stub. You can help by expanding it.