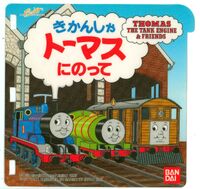 Riding on the Thomas the Tank Engine (きかんしゃトーマスにのって) was a Japanese game released for the Sega Pico by Bandai in 1995.
Characters
Goofs
James' wheels are grey when they should be black.
In the title screen, Percy's running board is green instead of red.
The lining on the engines are not painted on very well.
Clarabel is facing the wrong way.