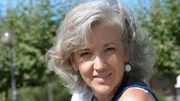 Salomé Larrucea is a Spanish actress. She narrated Thomas & Friends in Spain between the eighth and nineteenth series, while Roberto Cuadrado did the voices for the characters between the eighth and twelfth series. She also voiced The Fairy Godmother in "Shrek 2", Ellie in "Ice Age 3: Dawn of the Dinosaurs" and "Ice Age 4: Contential Drift" and Queen Bee/Grandma in the "Madagascar" video game.
"Welcome to the Steamworks, my friend!"

This article is a stub. You can help by expanding it.