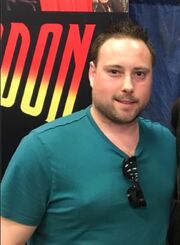 Sam Spencer Wilkinson (born 3 December 1986) is the current railway consultant for Thomas & Friends under contract by HiT Entertainment since 2012.
He is also the director of The Star Tugs Company Limited, which works to preserve the models from Thomas & Friends' sister show, TUGS.
Writer
Specials
Trivia
He met Wilbert Awdry once, which makes him one of two members of the current production team to have met him face to face, the other being Lee Pressman.
Sam helped out with hosting some Day Out with Thomas events on the Battlefield Line, along with dressing up as Mr. Conductor for them.
Sam is also a member of the Star Tugs Trust, a company dedicated in preserving the original Tugs models. Which also includes Thomas props such as Lakesider III and the S.S. Roxstar.
In early 2016, Sam briefly ran a Facebook page known as "Talk Thomas", in which he would garner input and consult people regarding changes they would like to see in future series. The reasons for the page's closure remain unclear.
In addition to his Railway Consultant duties, he runs Clearwater Entertainment Ltd, a retail company who sell and distribute Thomas & Friends and other childrens' media merchandise. 
His favourite character is Stephen and his favourite episode he had worked on is Steamie Stafford.
He was caught multiple times, attempting to scam, and at-least several times succeeding in scamming multiple fans of the show. Selling them overpriced fake replicas of facemasks of characters and claiming them to be the real thing. These fake face-casts include Diesel 10, Salty and Thomas. In addition, he stole the original Ffarquhar station sign from TomsProps in 2017 and donating long-lost models to Drayton Manor.
Gallery