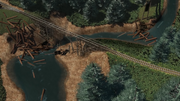 The Shake Shake Bridge is a bridge that runs over The Logging Pond on Misty Island. Its name comes from the fact that, when an engine crosses it, it shakes violently.
Trivia
The bridge's structure resembles the bridge inside Morgan's Mine.
The bridge as depicted in the series and specials is a severe deviation by the animation team from Sharon Miller's idea; she conceived the Shake Shake Bridge not as a half-collapsed trestle but as a suspension bridge that felt and sounded to be in worse shape than it actually was. This original design can be seen in the Take-n-Play Rescue From Misty Island set.
In real life, this trestle would have been dilapidated enough to be dismantled and replaced with a stronger bridge, making it less shaky and non-dangerous as well.
Merchandise