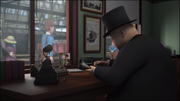 Sir Topham Hatt has an office where he usually works when he is not busy talking to the engines or planning events, located in Knapford Station. This is also where he receives messages from the stationmaster and other people about his engines whenever they are in trouble or need to talk to him. It was first introduced in the first season, and has also appeared in PC games based on the series.
In the Railway Series, the office is located at Tidmouth Station, the headquarters of the North Western Railway, although another one was seen at Vicarstown, the previous headquarters, in Gordon the Big Engine.
In the nineteenth season, the office was being redecorated, though Percy accidentally thought this meant Sir Topham Hatt was leaving the railway.
Soon after, Sailor John blew up the office with a stick of dynamite so that he could steal the treasure being kept in the safe.
Trivia
Sir Topham Hatt's Office has had numerous modifications throughout the years:
Merchandise