Smudger was a narrow gauge tank engine who used to work on the Mid Sodor Railway and was later turned into a generator due to his tendency to derail frequently.
Biography
Thomas & Friends
According to Duke, Smudger was a show-off who rode roughly and often came off the tracks. Duke tried to warn him to be careful, but Smudger ignored his advice. He was finally punished by being turned into a generator and being put behind the engine shed. This story was used by Duke to lecture Stuart and Falcon. The two engines became "really useful engines."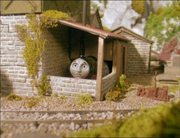 No information was given about his fate once the Mid Sodor Railway closed, so it must be assumed that he has either remained there, was moved to a different location, was restored back to working order, or was scrapped.
Although, in the following episode, Bulldog, the generator shed is visible, but Smudger is not present. Furthermore, by the events of Sleeping Beauty, the Arlesdale Sheds is discovered to be dilapidated and the generator shed had been dismantled.
In a magazine story, when Duncan was being careless, Sir Handel and Peter Sam tried telling him the story of Smudger.
Personality
Smudger was a complete show-off and often derailed, but refused to listen to advice. Duke warned him to be careful, but he took no notice until he was put in his place by being turned into a generator.
Technical Details
Basis
Smudger is based off of the
Talyllyn Railway
's
Dolgoch
, a Fletcher Jennings Class Bb 0-4-0WT.
Rheneas
and
Rusty's Ghost Engine
(
firefly formation
) share the same basis.
Livery
Smudger was painted dark green with black lining. He had black and brass name and number plates on the sides of his boiler and coal bunkers respectively. Promotional artwork and merchandise ranges have depicted Smudger with either a black or brass dome. Despite being numbered on television, no toy or artwork has shown him with his number.
Appearances
Audio Files
Whistle
Trivia
Quotes
"Smudger," said Duke, "was a show-off. He rode roughly and often came off the rails. I warned him to be careful, but he took no notice!"
"Listen, Dukie," he snarled. "Who worries about a few spills!?"
"We do here!' I said, but Smudger just laughed.
"Hahahahaha!"
"Until one day, Manager said he was going to make him useful at last. Smudger stopped laughing then!"
"Why? W-w-what did he do?"
"He turned him into a generator. He's still out there behind our shed. He'll never move again."
- Duke lecturing Stuart and Falcon about Smudger in Thomas' story, Granpuff, fourth series
Merchandise
See Also
References
*Disclosure: Some of the links above are affiliate links, meaning, at no additional cost to you, Fandom will earn a commission if you click through and make a purchase. Community content is available under
CC-BY-SA
unless otherwise noted.