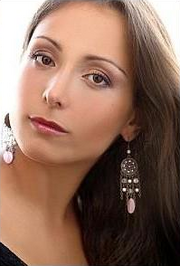 Talya Barkay (Hebrew: טליה ברקאי, born Talya Peleg on 11 August 1981) is an Israeli actress, voice actress, voice director, singer and songwriter who formerly directed and provides voices for the Hebrew narration of Thomas & Friends. Until the twentieth season, she also performed the Engine Roll Call along with Laura Shopov, who performed it solo until the twenty first season.
As a voice actress, she is well known for providing the Hebrew voices of various animated characters, including Vicky from "The Fairly Oddparents", the title character of "Atomic Betty", Delia Ketchum and Misty from "Pokémon", Lori from "Transformers: Cybertron", Dorothy Ann from "The Magic School Bus", Miss Keane from "The Powerpuff Girls", Karai and Starlee from the 2003 "Teenage Mutant Ninja Turtles" and April O'Neil from the 2012 series, Anne-Marie from "All Dogs Go to Heaven", Goo from "Foster's Home for Imaginary Friends", Twilight Sparkle from "My Little Pony: Friendship is Magic", and Wendy and Benny in the 2017 JimJam redub of the original "Bob the Builder" series.
She has also worked as a voice director for various Western animated series and animes, including "Fanboy and Chum Chum", "SpongeBob SquarePants" and "Transformers: Prime".
Voices
Songs
External Link