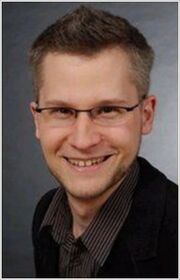 Tammo Kaulbarsch (born in 1974) is a German voice actor who provides a voice for the German dub of Thomas & Friends. He also translated Sodor's Legend of the Lost Treasure and the songs from Journey Beyond Sodor into German and was the voice director for two films.
He is best known for voicing Kiba Inuzuka from "Naruto", Tim Drake/Robin in the fourth season of "Batman: The Animated Series", Ian Nulse and Romeo Bisconti from "Heat Guy J", Chiro from "Super Robot Monkey Team Hyperforce Go!", the title character from "Angelo Rules" and Sasuke from "Afro Samuari".
Voices
"Welcome to the Steamworks, my friend!"

This article is a stub. You can help by expanding it.