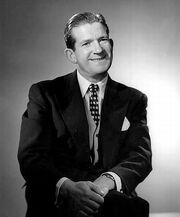 Ted Ray, real name Charles Olden (21st November 1905 - 8th November 1977) was a popular English comedian of the 1940s, '50s, and '60s.
Ray was born in Wigan, Lancashire. His parents moved to Liverpool within days of his birth and Liverpudlians regard him as a local. As a comedian of the 1940s and 1950s, he demonstrated his ad-libbing skills in his weekly radio show, "Ray's A Laugh", from 1949 until 1961.
Ted narrated some of the Railway Series books for the BBC Children's television series "Jackanory" from September - October 1970 and January 1972 followed by repeats in August 1973
Ted died at the age of 71 on 8th November 1977.
Books
External Links
"Welcome to the Steamworks, my friend!"

This article is a stub. You can help by expanding it.