This article is about 'the cinematographer'. You may be looking for 'the character'.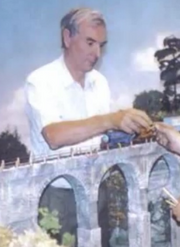 Terence "Terry" Permane was the director of photography. He was also a camera operator for Thomas the Tank Engine and Friends and TUGS. Over the years of working on Thomas, he developed some specialised techniques and equipment for filming the models, such as the Periscope Lens System. It was due in main part to him that Thomas was filmed using a 35mm camera. Terry is also the person who took photographs of each and every scene of Thomas which were used in books, magazines, and other merchandise.
He began work when the show began in 1984. He was Director of Photography on all series until the eleventh season, when his son Nigel Permane took over (Nigel had also been Director of Photography on Jack and the Sodor Construction Company mini-series). Terry also worked on Thomas and the Magic Railroad as "Model Special Effects".
Gallery