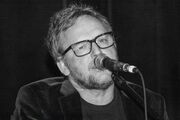 Terry Tompkins is a producer and partner at Eggplant LF. He helped rearrange the Engine Roll Call with Steve D'Angelo for the nineteenth series onwards and worked on other songs for Thomas & Friends. He is an Emmy Award winner and also works as an executive producer for television.
Songs
"Welcome to the Steamworks, my friend!"

This article is a stub. You can help by expanding it.