"I want to fish."
"Engines don't go fishing."
"Silly stick-in-the-muds!"
―Thomas and James
Thomas Goes Fishing is the twelfth episode of the first series. It is based on the story of the same name from The Railway Series book, Tank Engine Thomas Again.
Plot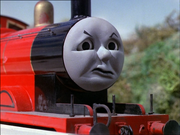 Along his branch line, Thomas often looks forward to the sight of the river, and the people that fish there. He often wants to stay and watch, but his
driver
will not let him, knowing that the Fat Controller would be cross if they fell behind schedule by stopping to fish. Whenever he meets another engine, he shares with them his desire to fish, but they all tell him that "engines don't go fishing," which he does not take seriously.
One day, Thomas arrives at the junction to find the water tower is out of order. Thomas is cross, but his crew decides to get water from the river.
The crew finds an old bucket and rope and hurry to the bridge. Once there, they lower the bucket down to the river. Unfortunately, the bucket has five holes and the water leaks out fast, so they have to hurry and pour it into Thomas' tank before it drains out. They repeat this several times until at last Thomas' thirst is quenched.
Before long, Thomas develops a sudden pain in his boiler. Steam rushes from his safety valve, and Thomas is alarmed that he may burst. The crew dampens the fire and they struggle on to Ffarquhar. Annie and Clarabel are uncoupled and Thomas, still aching, limps onto a siding while the guard phones an inspector and the Fat Controller. Workmen put signs saying "DANGER KEEP AWAY" all around Thomas. The inspector and the Fat Controller arrive and console Thomas. The driver explains what happened, and the inspector determines that the feed pipe is blocked.
When the inspector looks inside Thomas' tank, he notices something then climbs down and asks the Fat Controller to take a look in the tank as well. The Fat Controller agrees, looks in and is shocked at what he sees and they both agree that it was fish. The Driver deduces that the fish were collected in the process of filling the tank. The Fat Controller jokes that Thomas got to go fishing after all, but as fish do not suit him they must be removed at once. The crewmen carefully fish them out with instructions from the Fat Controller and afterwards they have a meal of fish and chips. The Fat Controller hopes that Thomas has learned his lesson, to which Thomas replies that he now understands why engines do not go fishing; it is too uncomfortable.
Characters
Locations
Trivia
Goofs
Merchandise
In Other Languages
View content
| Language | Title |
| --- | --- |
| Chinese | 托马斯去钓鱼 |
| Croatian | Tomica Ide u Ribolov |
| Czech | Tomáš na Rybách |
| Danish | Thomas på en Fisketur |
| Dutch | Thomas Gaat Vissen |
| Finnish | Tuomas Veturi Kalassa |
| French | Thomas Va à la Pêche |
| German | Thomas geht angeln |
| Greek | Ο Τόμας Πηγαίνει για Ψάρεμα |
| Hebrew | תומס הולך לדוג |
| Hungarian | Thomas Halászni Megy |
| Italian | I Trenini Non Vanno a Pescare! |
| Japanese | トーマスとさかなつり |
| Korean | 물고기 소동 |
| Norwegian | Thomas på Fisketur |
| Polish | Tomek Jedzie na Ryby |
| Romanian | Thomas Se Duce la Pescuit |
| Russian | Паровозы не ловят рыбу |
| Serbian | Tomas na Pecanju |
| Slovak | Thomas Ide na Rybačku |
| Slovenian | Tomaž Gre na Ribolov |
| Swedish | Thomas på Fisketur |
| Thai | โธมัสอยากตกปลา |
| Welsh | Tomos yn Pysgota |
Home Media Releases
UK

DVD Boxsets

WAL

Troublesome Trucks and 8 Other Stories

US

DVD Packs

AUS

Troublesome Trucks and other stories
Playtime
The Complete Series 1

DVD Boxsets

Classic Collection
Series One and Series Two Double Pack

NZ

Troublesome Trucks and other stories
Playtime

JPN

PHL

FRA

NOR

NL

FIN/ISL

Thomas the Tank Engine 2 (Scandinavian VHS/DVD)

DNK

SA

SE

GER

ITA

ROM

DVD Packs

SER

SVN

HRV

MYS

IND

CHN

HK

THA
Video Games
---
*Disclosure: Some of the links above are affiliate links, meaning, at no additional cost to you, Fandom will earn a commission if you click through and make a purchase. Community content is available under
CC-BY-SA
unless otherwise noted.