"Well done, Thomas! That was fun. But to beat you over that hill, I should have to grow wings and be an aeroplane."
―Bertie
Thomas and Bertie, retitled Thomas and Bertie's Great Race in American releases, is the fourteenth episode of the first series. It is based on the story of the same name from The Railway Series book, Tank Engine Thomas Again.
Plot
Thomas is waiting at a junction where a bus drives up alongside him. The bus introduces himself as Bertie, who remembers Thomas from the time he took his passengers home after Thomas crashed into a snowdrift and tells Thomas that he has come to help his passengers today. Thomas claims that he can go faster than Bertie, who challenges Thomas to a race. Their drivers agree and Thomas and Bertie begin their race.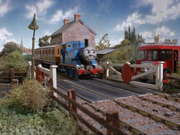 As it takes Thomas a while to build up speed, Bertie draws in front at the beginning of the race until he reaches the level crossing, where Thomas passes him and takes the lead. After that, the road leaves the railway and Thomas stops at the next station to collect passengers. He tells them to get in quickly and as he starts off again, he sees Bertie zooming over the bridge and retaking the lead. Thomas tries to catch up, but he has to stop at the junction because the signal is up. Bertie continues on gleefully while Thomas feels sure that he will lose the race, but he feels better after a drink and is ready to continue just as the signal drops.
While crossing the bridge, Thomas finds that he still has a chance to win, seeing Bertie waiting on a traffic light. As Bertie starts again, Thomas reaches full speed and takes the lead as he passes Bertie at the tunnel and makes it to the last station, winning the race. Everyone cheers for Thomas, but they also give Bertie a big cheer. Bertie congratulates Thomas and remarks that he would have had to be an aeroplane to beat him over the hill.
The two friends now work together and often talk about their race, but the passengers do not like to be bounced around and the Fat Controller warns Thomas about running at dangerous speeds. Although it does not seem likely the two will ever race again, they secretly hope to have another someday.
Characters
Locations
Trivia
Goofs
In Other Languages
View content
| Language | Title |
| --- | --- |
| Brazilian Portuguese | A Corrida |
| Chinese | 托马斯和柏蒂巴士 |
| Croatian | Tomica i Bero |
| Czech | Tomáš a Berty |
| Danish | Thomas og Bertie |
| Dutch | Thomas en Bertie |
| Estonian | Thomase suur võidusõit |
| Finnish | Tuomas-Veturi ja Lassi |
| French | Thomas et Bertrand |
| German | Bertie, der Bus |
| Greek | Ο Τόμας και ο Μπέρτι |
| Hebrew | תומס וברטי |
| Hungarian | Thomas és Bertie |
| Italian | Il Trenino e la Corriera |
| Japanese | トーマスとバーティーのきょうそう |
| Korean | 토마스와 버티의 경주 |
| Norwegian | Thomas og Bertie |
| Polish | Tomek i Bercia |
| Romanian | Thomas şi Bertie |
| Russian | Томас и Бэрти |
| Serbian | Tomas i Berti |
| Slovak | Thomas a Bertie |
| Slovenian | Tomaž in Berti |
| Spanish | La Gran Carrera de Thomas y Bertie |
| Swedish | Thomas och Bertie |
| Thai | โธมัสวิ่งแข่ง |
| Ukrainian | Томас і Берті |
| Welsh | Tomos a Berti |
Home Media Releases
UK

DVD Boxsets

WAL

Troublesome Trucks and 8 Other Stories

US

VHS/DVD Boxsets

AUS

Troublesome Trucks and other stories
Playtime
The Complete Series 1

DVD Boxsets

Complete Series 1-10
Classic Collection
Series One and Series Two Double Pack

NZ

Troublesome Trucks and other stories
Playtime

JPN

PHL

FRA

GER

DVD Boxsets

SE

NL

UKR

NOR

FIN/ISL

Thomas the Tank Engine 2 (Scandinavian VHS/DVD)

DNK

IND

ITA

HRV

ROM

DVD Packs

SER

SVN

GR

MYS

CHN

THA

HK
---
*Disclosure: Some of the links above are affiliate links, meaning, at no additional cost to you, Fandom will earn a commission if you click through and make a purchase. Community content is available under
CC-BY-SA
unless otherwise noted.