"You have a horror film called 'Alien'? That's really offensive, no wonder everyone keeps invading you!"
―The Twelfth Doctor, Last Christmas (2014)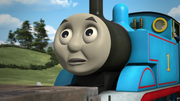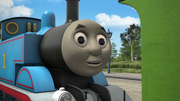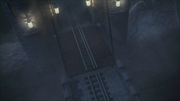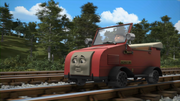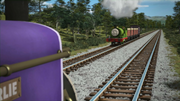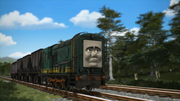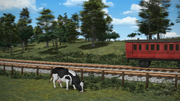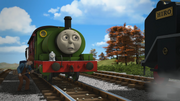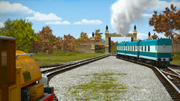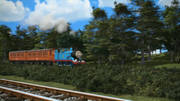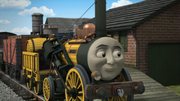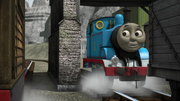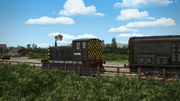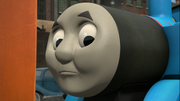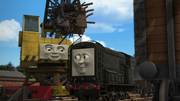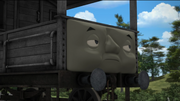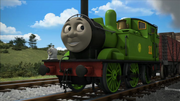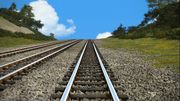 About Me
I'm 16, and have been an avid Thomas fan for as long as I can remember. I think my first experience of Thomas was my prized possession at the time: the complete second season on video. I remember watching the second video (A Close Shave to Thomas and the Missing Christmas Tree) much more than the first video (Thomas, Percy and the Coal to Dirty Work), mainly because I loved the episodes with Donald and Douglas! I also vaguely remember watching episodes such as Thomas and Bertie and Dirty Objects on television at my childminder's when I was about 3.
I remember starting to collect ERTL Models. I spent – quite literally – hours and hours on my floor, with about 50 ERTL models scattered across my carpet. My collection grew, and then expanded to a small number of Take-Along models.
When I was about 7, my dad made me a model railway, and bought me Hornby Thomas. My Hornby collection then started to grow, but never got very far! They were just too expensive! I bitterly regret not buying Hornby Oliver when I had the chance, not knowing it would be discontinued.
Then, in 2012, something happened that would trigger the growth of my model railway once more: I discovered Bachmann. Somehow, I found Simon Martin's Edward vs. Edward review on YouTube, and was fascinated by the detail, quality and price of the Bachmann models. Living in the UK meant that I had had no contact with the American range. I found a website that supplies the models here from the USA at a reasonable price. I have spent a shameful amount of my pocket money on engines and rolling stock for my model railway recently!!
Also in 2012, I started learning the original Thomas & Friends theme tunes on piano, which have been improving of late. I upload them onto YouTube; my channel is called crovansgate7698.
I am also a railway enthusiast: I have been to the National Railway Museum in York on numerous occasions, and am planning a trip to the Talyllyn Railway in Wales in July 2014. In July 2013, we had four steam locomotives come to my local railway station, including Mayflower and Duchess of Sutherland. In 2014's steam gala, Union of South Africa steamed in alongside some tank engines and another tender engine.
Thomas & Friends has had a huge influence on my life, its morals, its values, its merchandise, everything! Even my work ethic has improved somewhat with one certain quote: "There are two ways of doing things: the Great Western way, or the wrong way!"
Other Interests
Outside of Thomas and Friends, I'm also proud to call myself a Whovian. I love Doctor Who, and my friends on Twitter can testify to this, as I'm often making references to it - that only a few understand - and complaining about writers, usually Steven Moffat!
I am also a "Lovatic" - i.e. a Demi Lovato fan. At the time of writing, my favourite of her songs is 'Give Your Heart a Break', although that changes on roughly an hourly basis!
I'm also one of those thespian nutters. You know, the freaks that dedicate months of their life to a show that lasts for four nights! In April 2015, I will be playing the part of Wilbur Turnblad in my local performance of the musical Hairspray.
Though not what you'd call a sportsman (!!), I play a lot of tennis - with less ability than I'd like - and like going on long walks with my dog.
My view on the Thomas fanbase
There are many, many problems with this "community" at present. The number one problem is that 90% of us lack basic tact. I admit that I am occasionally guilty of this. We express our opinions as facts, and we are unable to accept that anyone else's opinion is correct or valid. This leads to ridiculous, caps-locked arguments over stupidly petty subjects.
Then, of course, there are the noobs. I am fortunate in that I entered the fanbase mature enough to avoid this phase. In my experience, they say pointless things which annoy people like myself. For example, I was watching Calm Down Caitlin on YouTube last week, and I saw a comment which read as follows: "are conner and catlin in love" . First of all, this person seems to lack the intelligence to spell their names correctly, despite the latter's being in the title. Secondly, where on earth did this person get this idea from? Connor and Caitlin's dialogue in this episode is as follows:
"Wake up, Caitlin!" "Aah! Right! Of course!"
Two lines. That's it.
Then, of course, there's the whole Luke + Millie thing. Seriously? Why, when a female character is introduced, must they be immediately paired up with the first male character they interact with? It's degrading, and insulting to the name of the Reverend Awdry.
The last (immediate) problem is people blaming HiT Entertainment for every negative factor in the series. The latest one is Connor and Caitlin's basis, being American engines. It had nothing to do with HiT! I'm fairly certain that that was decided between the writers and Arc Studios.
This fandom needs positive change; fast. We can only hope that it will come as the series changes for the better as well.
Views on Season 17
Kevin's Cranky Friend: 8 / 10 — Great episode, Cranky and Kevin go well together
Scruff's Makeover: 7 / 10 — Quite dull, but good character development and a good moral
Wayward Winston: 8.5 / 10 — Really fun episode with great music and action
Gordon Runs Dry: 5 / 10 — Very informative, Paxton's in character, but very bland
Calm Down Caitlin: 8.5 / 10 — Very funny episode, Caitlin's a great character
Steamie Stafford: 4 / 10 — Boring episode, but it has a good moral
Henry's Hero: 6.5 / 10 — Henry seems a bit wimpy, but improves towards the end
Luke's New Friend: 8 / 10 — Narrow gauge engines on top form, heartwarming episode
The Switch: 9 / 10 - Great character development for Millie, some great lines from Rheneas
Not Now, Charlie!: 7 / 10 - Charlie does something useful for once, and Harold does proper work
The Lost Puff: 7.5 / 10 - Paxton on top form, great conversations with Stephen and Toby
The Thomas Way: 9 / 10 - The role suited Duck very well, Thomas / Duck rivalry works brilliantly
The Phantom Express: 7 / 10 - Some great lines from Stephen, great "spooky" episode
Percy's Lucky Day: 7 / 10 - Bill and Ben well-suited to their roles, Stephen perfectly in character
Bill Or Ben?: 8.5 / 10 - Marvellous to see the twins back to their usual tricks, but they look terrible painted blue; hope they revert that
Too Many Fire Engines: 7.5 / 10 — We FINALLY see Flynn acting like a real fire engine!
No Snow For Thomas: 7 / 10 — More classic references, nice to see Thomas get punished for misbehaving
Santa's Little Engine: 7 / 10 — Some great humour, and it's nice that the Fat Controller has a major role
The Missing Christmas Decorations: 7.5 / 10 — Felt way too much like DOTD, but it's good to see Sidney doing something, and it has a great moral
The Frozen Turntable 7 / 10 — A bit too much emphasis on the engines' sleeping places, instead of Gordon's punishment
Away From the Sea: 7 / 10 — Great classic references, and Salty and Porter are both good characters
Gone Fishing: 7.5 / 10 — A wonderful reintroduction for Harvey, I'm glad Bill and Ben didn't stay blue
The Smelly Kipper: 7 / 10 — A bit dull, but a focus on night trains has hardly been touched upon recently
The Afternoon Tea Express: 5 / 10 — Not a dreadful episode, but it felt somewhat Miller-esque to me
No More Mr Nice Engine: 8 / 10 — Very good episode, good to see Diesel actually being devious again
Thomas' Shortcut: 9 / 10 — Some fantastic dialogue between Thomas and Bertie, felt very much like a classic episode
Views on Season 18
Old Reliable Edward: 9.5 / 10 - I don't know what I can say that would do this justice. Funny, charming and aesthetically beautiful! A true modern classic!
Not So Slow Coaches: 7.5 / 10 – Great episode, some good comedy value in there, especially the bit between Annie and Clarabel when Caitlin first leaves with them.
Flatbeds of Fear: 6 / 10 – I don't think this is as bad an episode as I first thought, but there's still something about it that just doesn't encourage me to watch it over and over, like some of the others.
Disappearing Diesels: 9 / 10 – One of the most charming episodes we've seen since at least Season 7. It somehow encaptures Paxton's naïvety and makes it funny, with an awesome, serious message: you can still be kind to people, even if they're unkind to you.
Signals Crossed: 5.5 / 10 - This episode was let down by its choice of lead character. The music was fantastic, the animation was sublime, the voice actors were on top form, the story itself wasn't bad at all... But Toby was a poor choice for this episode. Stanley, Percy or Rosie would have been better-suited.
Toad's Adventure: 7.5 / 10 - Similar, in part, to 'Busy Going Backwards', which isn't negative! Good reintroduction for Oliver and Toad, and a nice, well-placed reference to Oliver's escape.
Duck in the Water: 7 / 10 This episode is good fun, with some great lines by Duck and the Fat Controller! Animation on top form, as usual, especially the rain effects.
Duck and the Slip Coaches: 10 / 10 Wow. I can't believe such an episode is possible: funny, yet informative, with some great lines from Duck and James! I love the slip coaches: such well-researched and endearing characters!
Thomas the Quarry Engine: 8.5 / 10 – Fantastic episode. It's about time Mavis got a decent episode to herself, and the ending song is stunning.
Thomas and the Emergency Cable: 7 / 10 - Another episode which proved that really good stories are set in real-life situations! Although it would have made more sense if Thomas had got another coach, he looked weird with just Clarabel.
Duncan and the Grumpy Passenger: 9 / 10 - Arc have excelled themselves in this episode. Yes, Duncan's a bit small, but the backdrops of the Skarloey Railway, added to the detail in the engines, rolling stock and stations help me overlook that.
Marion and the Pipe: 7 / 10 - A good, solid episode, with some good comedy moments (that bit with Percy - priceless!). A good moral about owning up to your mistakes as well, which is a good moral for kids to learn.
Missing Gator: 7.5 / 10 - This episode's received a lot of hate, but I personally like the story arc that this continues from Tale of the Brave. A very sweet, heartwarming episode that's good for kids with far-off friends and loved ones.
No Steam Without Coal: 9.5 / 10 - I never thought I'd laugh at an episode as much as I did this one. The comedy was fantastic, but the moral was great as well - people's differences can be a useful asset.
Spencer's VIP: 8 / 10 - I was worried about this one, as I didn't like the idea of the engines competing, but fortunately it delivered! A great range of characters and another strong moral about not showing off.
Toad's Bright Idea: 8.5 / 10 - I really liked the idea of setting this within Tale of the Brave. It made a lot of sense, and made Sodor seem bigger as a result of more than one story happening at once.
Long Lost Friend: 7.5 / 10 - A really nice episode. Percy and Gator's reunion was really touching, and it's nice to see that Gator did more than what was shown on screen in TOTB.
Last Train for Christmas: 9 / 10 I love this episode. Not only was the animation sublime (the snow around Emily's wheels is amazing), but there was a brilliant moral about helping each other pull through.
Duncan the Humbug: 8 / 10 - A great concept, but I rarely have to complain about characters. Thomas' appearance felt forced, and Sir Handel's complete absence (again) was a missed opportunity. Pairing him with Duncan would have been brilliant.
The Perfect Gift: 6.5 / 10 - A surprisingly weak episode for Davey Moore. Not bad, but it felt like a rehash of Salty's Surprise, and the Percy / Reg dynamic didn't really save it.
My Favourite Characters
Steam engine:
1. Duck
2. Edward
3. Stephen
Diesel:
1. Paxton
2. Salty
3. Mavis
Narrow Gauge Engine:
1. Skarloey
2. Rheneas
3. Luke
Rolling Stock:
2. Toad
3. Henrietta
Human:
2. Dowager Hatt
Road vehicle:
1. Jack
2. Bertie
3. Kevin
Other vehicle:
1. Cranky
2. Marion
3. Harold
My Favourite Episodes
Season 1
Season 2
3. Break Van
Season 3
1. Escape
2. Thomas, Percy and the Post Train
3. Bulgy
Season 4
2. Fish
Season 5
1. Horrid Lorry
2. Bye George!
Season 6
1. Edward, the Very Useful Engine
Season 7
3. Snow Engine
Season 8
Season 9
2. Mighty Mac
Season 10
1. Thomas and Skarloey's Big Day Out
2. Thomas and the Birthday Mail
Season 11
Season 12
1. Saved You!
Season 13
Season 14
2. Being Percy
Season 15
3. Stuck on You
Season 16
Season 17
2. Bill or Ben?
Season 18
Special
My Favourite Voices
UK
1. Edward - voiced by Keith Wickham
3. Jack - voiced by Steven Kynman
USA
1. Thomas - voiced by Martin Sherman
2. Sir Topham Hatt - voiced by Kerry Shale
3. Butch - voiced by Glenn Wrage
UK / USA
1. Bill and Ben - voiced by Jonathan Broadbent
2. Marion - voiced by Olivia Colman
3. Oliver - voiced by Joe Mills
My ERTL collection
My Take-Along Collection
My Wooden Railway Collection
My BRIO collection
My Hornby collection
My Bachmann Collection
*Disclosure: Some of the links above are affiliate links, meaning, at no additional cost to you, Fandom will earn a commission if you click through and make a purchase. Community content is available under
CC-BY-SA
unless otherwise noted.