I'm around rarely. Statement was on Twitter or my blog.

<soundcloud url="https://soundcloud.com/jackninja5/sets/anime-songs" height="100" auto_play="false" />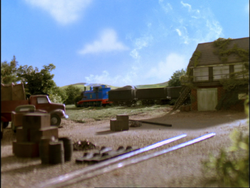 Jackninja5
Name: Jack
Favourite Episode: Duck Takes Charge
Religion: None (atheist)
Political Affiliation: Socialist feminist

I'm back to making YouTube Poops of this wonderful show.

Checklist:
Date Formats (January and February done)
Publisher in Book template
Taiwan/Thailand to Hong Kong
Fix coding in character tabbers
Fix spelling of "brake van"
Well, I am here to fix some things that need corrections like spelling, formatting, etc. I, however, would NOT consider myself a TTTE Wikian, at least not anymore. Since January 2015, I've felt that the wiki is slowly dying away and I personally think the admins are not doing enough here. As soon as I'm done with my corrections, I will leave indefinitely. I have no hope that the problems I notice here are going to get any better. The wiki's glory days were in 2012, 2013 and 2014, where we had the chatbox and a lot of cool users. However, drama kicked up despite it being for incredibly stupid reasons so it was temporarily disabled in September 2014. It came back in December but more drama happened so it was disabled again in January 2015. Now it's gone and a lot of the good users are gone too. By the time, I'm finished with my work, so will I...

The Ninja5 Empire (Talk) 05:43, December 3, 2016 (UTC)
Favourite Characters
Bertie, Stepney and Diesel (tie)
'Arry
Bert
Henry
Edward
Toby
Mavis
Rusty
Trevor
Sidney
Paxton
The Fat Controller
Cranky
Norman
Thomas
Percy
James
Gordon
The Butler
The Fat Controller's Telephone
Friends (NOT by favourites -____- SO QUIT COMPLAINING)
I am antisocial but there are some people who are contemptible. Well they aren't really but friendly banter. :P
Let me know if I forgot you.
Favourite Episodes by Season
Least Favourite Episodes by Season
Pages I created
Images uploaded by me
Favourites and Least Favourites
Incomplete Top 15 for both!
Favourite Episodes
Least Favourite Episodes
Wonky Whistle - Should be called "Wonky Episode". Thomas clearly should know that his darn whistle is scaring everyone. In fact, whether it works or not, animals would be scared.
Henry's Forest - Yes, there are some episodes in the original series that I hate too. This is more for the same reason as the Reverend's hatred for this episode. Trees are WAY too close to the line! Henry could destroy the lives of more animals than that storm. Where is the bushfire?! Also, it just feels like a really weak episode.
It's Good to be Gordon - Obvious reason is obvious. Henry never needed special coal anymore and even when he did, normal coal just made him sick not have some sort of smoke explosion in his firebox. Did they not see the original episodes? Also, if you skip over that, why does Gordon think that special coal works better than normal coal? I kind of assumed it works a bit like medicine for sick people. Special coal should also be something you have an abundance for so both Henry and Gordon should have gotten some special coal. Also, Gordon could help Henry AFTER breaking his record. Don't get me STARTED on those tenders!!!
Userboxes
Other Things I Enjoy
TUGS
Robot Chicken
Super Mario
Plants vs. Zombies
Nostalgia Critic
I Hate Everything
Deadpool
Total Drama
Pixar
Disney
Club Penguin
Adventure Time
Regular Show
The Amazing World of Gumball
Gravity Falls
South Park
Family Guy
The Simpsons
Futurama
American Dad!
Victorious
iCarly
Mr. Bean
Blackadder
Johnny English
Little Britain
Mock the Week
CGP Grey
WonderWhy
Kurzgesagt (That's German for "In a Nutshell"; I say this because they say that on their channel)
Geography Now!
Phantomstrider8
Vsauce
How It Should Have Ended
Wakfu
The Dictator
1984 (George Orwell book)
Diary of a Wimpy Kid
...and a lot of nostalgia.
Gallery of Craziness
Credits
Based on the series by Britt Allcroft and the Rev. W. Awdry
Written by a potato
Narrated by Michael Angelis and Ringo Starr
No copyright intended.
No animals were harmed in the making of this film...
...except for that spider I accidentally stepped on.
Gallery
The Random Start
The Story of Sir Handel
The Story of Rheneas (My personal favourite)
Luke vs. The Enemies
Rusty Does Everything
No More Stories
Gallery of Awesomeness