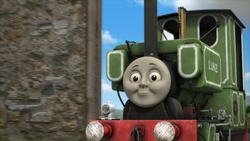 James the Train Lover (EpicLafiteau)
Join Date: November 12th, 2012
Name: James
Gender: Male
Birthdate: April 16
Favourite Color: Blue
Favourite Character: Stanley
YouTube Channel: EpicLafiteau
Like the template box says above, I'm James and this is my Wiki page. Scroll down to read more about me or check out some of the other tabs on my page if you have any questions!
Bio
| | |
| --- | --- |
| I first got into Thomas & Friends when I was 2 or 3 years old. I used to watch VHS tapes and DVDs of the Classic Series and was given a Wooden Railway James and Edward. A little while later, I woke up one morning to find a Wooden Railway train table sitting in the living room in front of the TV with a whole track layout set up and several more characters I didn't have before like Thomas, Percy, Toby, Trevor, Flying Scotsman, etc. Since then, I've been an avid collector of Thomas & Friends merchandise. Over the years, I've collected or owned at least one item from Wooden Railway, Wood, Take Along, Take N Play, Adventures, Trackmaster, TrackMaster 2 (2014 Redesign), Plarail, Bandai, ERTL, Tomica, Railway Pals, MINIS, Capsule Plarail Wind-Ups, Bachmann, and Hornby, as well as several VHS, DVDs, CDs, and other miscellaneous stuff. Unfortunately with the recent quality of the remaining Thomas merchandise, I've begun to sort of "get out" of collecting them and will eventually start to sell some of it. I'm going to keep the items that mean a lot to me or have sentimental value (i.e. gifts, "first of's", favorite characters, good quality merch, etc). Aside from merchandise, my almost life-long interest as Thomas has grown outside of just buying toys. In 2012, I joined this wiki, and to my surprise, there were other people around my age, younger and older, who all liked Thomas and were talking about it. I had finally found a place to talk about Thomas because most people from school had grown out of it and I stuck around this long. Years later, I was asked to be an image controller after suggesting some ideas on how to make the image quality updated here, and the team at the time was so impressed with my work and dedication, I was promoted to admin. In 2014, I got into Trainz Simulator to drive around the engines and make videos (on my YouTube channel, EpicLafiteau). In late 2017, I learned how to use Blender to create 3D models of Thomas & Friends characters to eventually export into Trainz. In 2019, I was promoted to bureaucrat. As of today, I'm still learning new things everyday and hope to some day put all this knowledge into something beneficial. | |
Favorite Characters
Favorite Episodes
These are just all episodes I really liked from each season
Season 1

Season 2

Season 3

Season 4

Season 5

Season 6

Season 7

Season 11

Season 16

Season 17

Season 18

Season 19

Season 20

Season 21

Season 22

Season 23

Season 24
Movies Ranked Favorite to Least Favorite
Pages I've Created
Other places to find me
*Disclosure: Some of the links above are affiliate links, meaning, at no additional cost to you, Fandom will earn a commission if you click through and make a purchase. Community content is available under
CC-BY-SA
unless otherwise noted.