"It isn't wrong, but we just don't do it."
―Gordon on Henry's whistling
Synopsis
Hello, I am an editor and thread moderator on the Thomas Wiki. I try my best to do as best as I can to edit. Anyway, I've been viewing the wiki since 2016 but didn't make an account until 2020. I've been a Thomas fan since I was 2 years old and I don't remember how or why. Anyway, I've been watching the show since then and hate BWBA. I don't like how the show has become now, but I still really enjoy talking about and learning new things about this franchise.
Favourite Episodes
Worst Episodes (Incomplete. Only goes up to Season 18)
Any Episode not on these lists are just okay.
Best Episode From Each Season
Favourite Characters
Worst Characters
Seasons Ranked
Specials Ranked
Songs Ranked
Other Favourite and Least Favourite things
Favourites
Railway Series Illustration: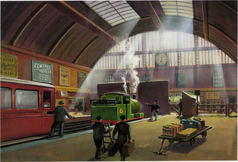 Line in the Television Series:

Location in the Railway Series: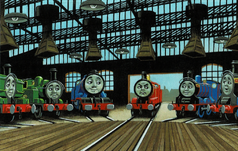 Location in the Television Series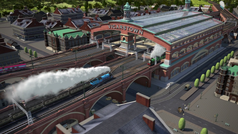 Least Favourites
Railway Series Illustrations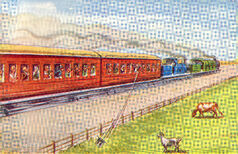 Line in the Television Series
Location In The Railway Series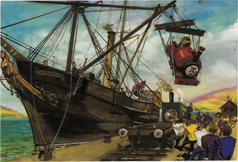 Location In The Television Series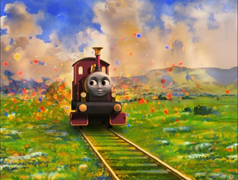 My Collection Of Thomas Stuff
I'm Not Listing any sets because come on.

Also Keep in mind that I've lost a lot of stuff that I won't put on the list.

Wooden Railway

2004 Thomas x2
2013 Thomas
2002 Edward
Roll & Whistle James (No Tender)
2013 Percy
2014 Talking Toby
2014 Duck
1995 Oliver
2003 Bill
2003 Fergus
Celebration Spencer
Molly
Billy
2013 Hiro
Gator
Marion
Ashima
2003 Mavis
2003 'Arry and Bert
2013 Salty
2011 Den
2011 Dart
2011 Paxton
Phillip
Freddie
2009 Victor
Black Cargo Car
Dino Fossil Car
Yellow Box Car
Red Sodor Line Caboose
Original Bertie
Terrence
Sir Topham Hatt
Talking Railway Series Cranky

Take Along

Thomas
Edward
Henry (No Tender)
Gordon
James
Percy
Lady
Emily(Tender Only)
Spencer
Molly(Tender Only)
Diesel
Mavis
Diesel 10
Sir Handel
Mighty Mac
Jack
Annie and Clarabel
Rocky
Straining Thomas

Take-n-Play

2011 Thomas
2013 Thomas x2
Pop Goes Thomas
Quarry Dust Thomas x2
Royal Thomas x2
Talking Henry
2013 Gordon
Pull N Zoom James
2013 Percy
Talking Rosie
2013 Whiff
2010 Stanley
2013 Bash
Winston
2013 Connor
2013 Caitlin
Ryan
2013 Diesel 10
2012 Luke
Mike
Rex
Troublesome Truck x2
Pop Goes Thomas Truck
Mail Car
2 Flatbeds
Reg

Adventures

Light Up Racer Thomas
Emily

Minis

Racer Thomas
Glow In The Dark Thomas
Glow In The Dark James
Glow In The Dark Percy
Duck
Glow In The Dark Charlie
Glow in The Dark Paxton

Trackmaster

2010 Thomas
2011 Thomas
2014 Thomas
Talking Henry
2014 Gordon
Banana Gordon
2007 James
2014 James
Talking James x3
2007 Percy x2
2011 Percy
2014 Percy
Stepney
Talking Spencer
Stanley
Belle
Stephen
Caitlin
Gator
Timothy
Hard at Work Diesel
Skarloey
Yellow Rheneas
Rusty
Duncan
A Lot Of Trucks
Cranky
Colin

ERTL

DVD

Other

Discover Junction Thomas
Discover Junction Harold
Discover Junction Sir Topham Hatt
Thomas Saves the Day (book) (It comes with a Thomas Plush)
File:Load'n'GoThomas.jpg That. Type That In.
Some Toy Whistles with Thomas and Percy On Them

Also I Don't Have Any Railway Series Books... YET
Trivia
Images Uploaded
*Disclosure: Some of the links above are affiliate links, meaning, at no additional cost to you, Fandom will earn a commission if you click through and make a purchase. Community content is available under
CC-BY-SA
unless otherwise noted.