About me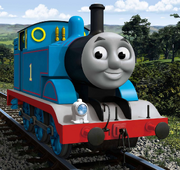 I started caring about everyone's happiness, and the Earth when I watched the season 2 finale of the Disney Channel Show, Fish Hooks made me realized that heroes are cool because they protect that kind of happiness. I started to learn more about life, love, and strength from heroes like Kamen Riders, & Super Sentai. I learned that from Kamen Rider that this kind of happiness is true strength, including friendship. Sometimes I like to pick up trash, & recyclables that dirties the beautiful planet, including preventing Global Warming by burning CO2 for not from causing wildfires, that would kill, & scare animals, plants, and us humans, that's why recycling can prevent global warming, so I do this for everyone. 
About Thomas
I loved Thomas when I was a kid and I would have a lot of Wooden Trains, Tomy and DVDs/VHS. I watched Thomas on PBS Kids remembering "Today on the Island of Sodor" opening and Music, the episodes, learning segments and songs I've watched before being released on DVD, and the Learning Segments that were only seen on TV or before coming on DVD. Such good childhood memories when the model series aired. When I got older I started to think that Thomas is for little kids, so I selfishly sold one of my Thomas things in 2009. Then I got back to it in 2012, but in 2013 got over it. But finally what I realized that throwing away my childhood memories is the most selfish thing I've ever done & that if you really like something, you cherish those moments. I'm starting to love Thomas even more now that I understand and listen to life lessons and how good it is to have friends. So I hope there are other people like me still likes Thomas even if there teenagers or older. I've seen the UK version for the first time in 2006, now since I'm buying UK DVDs more often, I like the UK narrations of Thomas & Friends even more.
What I like doing on Thomas Wiki
Contributions
Contributions and Things I'm Proud Of
Getting episodes screenshots from Amazon and UK DVDs. Even some CGI Episodes from PBS Kids. Now That Thomas has a Nick Jr. website, I'm back in business uploaded screenshots from CGI Episodes.
Creating an Inbox for Songs by showing the composers, release date, writers and singers in 2016 because it's better than putting it all in a summary.
Combining DVD pages, categories and photos into one page that has different language and titles, but has the same episodes such as the Season 7-9 DVDs.
Making changes to the Learning Segments page by making separate sections and galleries of each segments, and adding which characters and locations were seen and adding trivia, goofs and videos. It was fun making a lot of changes. The Thomas wiki is something that worth working for and helping out the community instead of the other wikis I've been on.
Combining UK and AUS sections on Home Media Releases when they both have the same DVD and VHS when there's no VHS/DVD that's only in one region.
I'm the the first one to get screenshots of the some UK DVD Menu Games, upload bigger screenshots of the DVD Menus selections and the contents lists that came with the DVDs.
I discovered more Season 4 episodes that were Direct-to-Home Video and that 24 out of 26 episodes and all UK narrations were released on video before airing on TV. I discovered that the Season 6 episode, Gordon Takes a Tumble was released on DVD and VHS before airing on TV on The Fogman and Other Stories a day before its TV airing. I've also labeled direct-to-home video on a VHS name on Home Media Releases on episode pages so viewers would know why the episodes were Direct-to-Home Video.
Getting pictures of some Thomas & Friends UK DVD discs and back covers.
The first to creat the page of the UK DVD The Complete Series 19.
I enjoyed uploading new screenshots of Journey Beyond Sodor my first time uploading screenshots from a Thomas movie and The Great Race from Nick Jr. I also uploaded the last few screenshots of Sodor's Legend of the Lost Treasure.
I'm the first user to upload screenshots of the full Big World! Big Adventures! Movie from Nick Jr. website, my first movie to upload screenshots before anyone else did. I even got lucky edit of 1,033,000-1,038,000 in a row for uploading the pictures.
The first to get better quality of all screenshots of Thomas and the Runaway Kite, Toby's New Whistle and The Biggest Present of All from my The Complete Series 13 DVD after 8 years no one has uploaded them.
Being the first one to upload the back cover, spine and disc of the UK DVD, 1st Class Stories after almost 3 years no ones has uploaded them. Also On the Go with Thomas.
My most favorite contribution I enjoyed doing
After TTTE admin SteamTeam retired from being an admin, image controllers MrMenfan94 doesn't have the rest of the complete series UK DVDs and StephOfTheEast doesn't upload the screenshots much, I wondered to myself, who's gonna upload better quality widescreen screenshots of all the model series episodes of Seasons 6-12 and the CGI series? After getting some UK DVDs on January 7th, 2017, I realized that I could do it when on January 17th, 2017 I got screenshots of Thomas and the Tuba, Percy's New Whistle and Hide and Peep from my DVDs at school and they turned out good and that was when my work began. I enjoyed uploading good quality widescreen screenshots of the model and CGI series episodes from my UK DVDs in and some fullscreen episodes while listening to Thomas songs and music that fits the episode i'm doing and it makes it more fun. I like to believe it's one of my talents to me and the Thomas The Tank Engine wiki.
DVDs I have
My Favorite Characters
My Favorite Episodes/Movie
Season 1
Season 2
Season 3
Season 4
Season 5
Season 6
Season 7
Season 8
Season 9
Season 10
Season 11
Season 12
CGI Series
Season 15
Season 16
Season 17
Season 18
Season 20
*Disclosure: Some of the links above are affiliate links, meaning, at no additional cost to you, Fandom will earn a commission if you click through and make a purchase. Community content is available under
CC-BY-SA
unless otherwise noted.