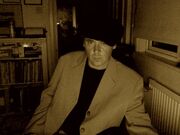 Wayne Jackman is a writer, actor and director. He was an episode writer for Thomas & Friends.
He has also written for many other children's shows including, "Playbus", "Radio Roo", "Rainbow Days", "Blue Peter", "Postman Pat", "Playschool", "Tweenies", "Balamory", "Fifi and the Flowertots", "Bodger and Badger", "Zig and Zag", "The Fimbles", "Roary the Racing Car", "Timmy Time", "Me Too", "Toby's Travelling Circus", "Sindbad & the 7 Galaxies", "The CBeebees House Show" and "Yo Gabba Gabba". He has written thirty-five children's books and five children's stage shows. He also worked as a presenter and writer on "Playschool" and has acted in various roles on stage, screen, and radio.
Episodes
External links
"Welcome to the Steamworks, my friend!"

This article is a stub. You can help by expanding it.