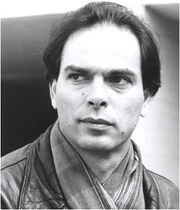 Zvika Schwartzberg (Hebrew: צביקה שוורצברג, born December 19th, 1956) is an Israeli voice actor who provided voices in the Hebrew dub of Thomas and the Magic Railroad.
He is known for being the Hebrew voice of Remus Lupin from the "Harry Potter" films, Plankton from "SpongeBob SquarePants", Zabuza from "Naruto", Max Tennyson from the "Ben 10" series, Lex Luthor in "Justice League" and "Justice League Unlimited", Warren McGinnis from "Batman Beyond", Dodo Bird from Tim Burton's "Alice in Wonderland" film, AUTO from "WALL·E", Myles Grant from "Star Wars Rebels", Flambo from "Adventure Time", Clow Reed from "Cardcaptor Sakura", Eduardo and Jackie Khones from "Foster's Home for "Imaginary Friends", and Oroku Saki/Shredder in both the 2003 and 2012 "Teenage Mutant Ninja Turtles" series.
He is also the father of actor Tom Schwartzberg.
Voices